Best School Transport Facility in Barrackpore
---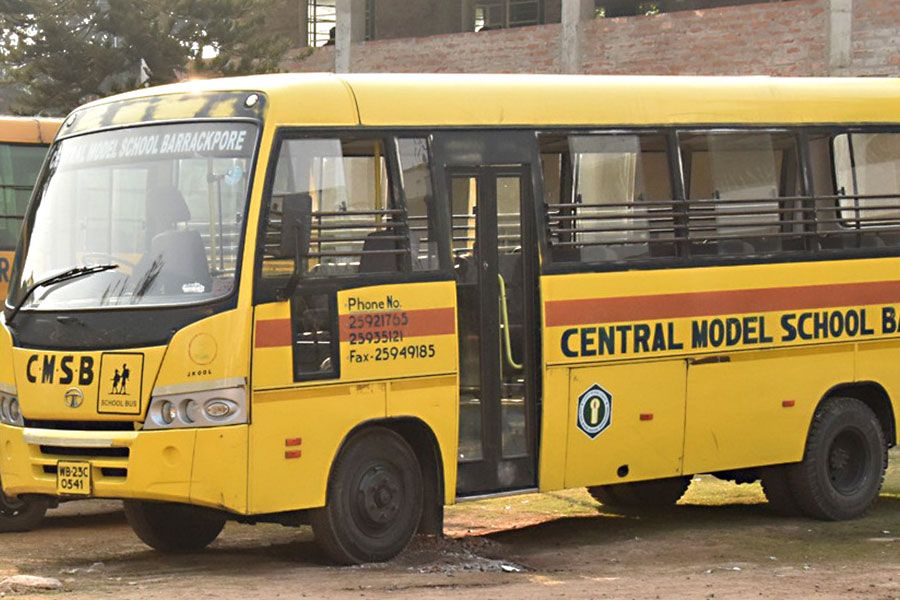 We have the Best School Transport Facility in Central Model School, Barrackpore.
Central Model School, Barrackpore has good transportation facility in Barrackpore. Those parents who wish to avail the school bus for their wards are requested to contact the office with the application. Central Model School, Barrackpore provides bus facility to the students to avoid the inconvenient journey by public bus.
Daily school buses are provided by the school to ensure students have a secured, safe, and comfortable journey from home to school and back. The School transport facility supervises & supports smooth & hassle free service with availability of both AC and NON AC buses. Therefore, we provide the best school transport facility in Barrackpore.


Bus Routes
1)78 ROUTE, SCHOOL TO DUNLOP, BELGHORIA, DAKSHINESWAR.
● School to chiriamore
● To talpukur
● To tatagate
● To khardah B.T.Road
● To sodepur B.T.Road
● To Agarpara B.T.Road
● To Kamarhati B.T.Road
● To Rathtala B.T.Road
● To Belgharia B.T.Road
● To Dunlop B.T.Road
● To Dakshineswar
● To Ariadaha
● To Sindul store
● TO 234 Bus Stand
● To Belgharia Bridge
● To Culture More
● To Pub Para
● To Bonhooghly
● To Tobin road
● TO Ghosh para


2) 85 ROUTE, SCHOOL TO BHATPARA
● To Bkp Station
● To Lalkuthi
● To Ghusiapara Bus Stand
● To Kalinivas
● To Chalbazar
● To Palta
● To Badamtala
● To Kanthadhar
● To Ichhapur, Maniktala
● To Pinkal
● To Shyamnagar
● To Powerhouse
● To 26 no. rail gate (SHY)
● To Goalghar
● To Jagaddal
● To Kakinara
● To Bhatpara


3) KHARDAH - SODPUR - GHOLA
● To Tatagate
● To Sodepur station
● To HB Town
● To Ghola
● To Keya More
● To Gowshala More
● To Natagarh
● To Bhombolar More
● To Pansila
● To Rahara bazar
● To Ramkrishna Mission
● To Khardah station


4) BARASAT ROUTE
● School to lalkuthi bridge
● To buri bazar
● To masjid more
● To nona chandan pukur
● To jafarpur
● To kalyani high road
● To kundu bari
● To toll tax
● To mohanpur
● To debpukur
● To nilgunj
● To barasat (Hela battala)

---